Best Austin Spots for Old Fashion Cocktails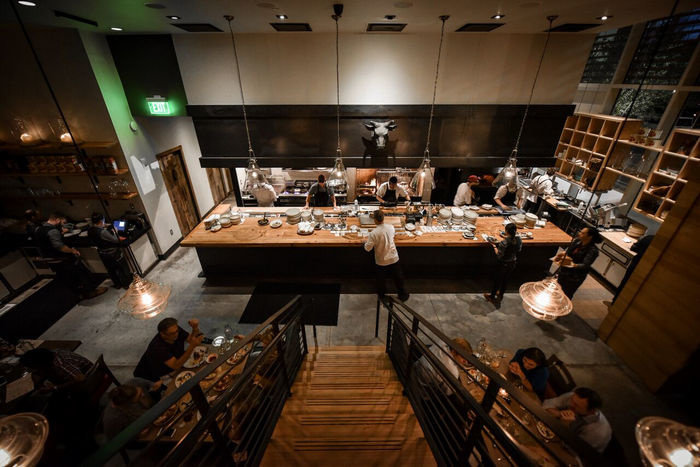 I'm not much of a cocktail drinker, at least not since after college graduation. However, there is a single cocktail that remains dear to my heart. In some crazy way, it is also a test for establishments that I visit, and whether I should frequent them thereafter. 
There's no judging a bartender on skills for pouring you a neat Scotch after all.
Just like good manners, I applaud learned skills, technique, and attention to detail. For a cocktail so simply conceived, and with so few ingredients - it baffles me how it's so often botched by tons of bartenders everywhere and so differently made from hand to hand, even within the same establishment. 
In my quest for finding the best Old-Fashioned spots in Austin, I found the following (In no particular order):
THE GARAGE

HERE NOR THERE

THE LINE HOTEL 

FLOPPY DISK REPAIR CO.
THE GARAGE ~
Cool, dark, somewhat discrete location (inside and actual garage) - for some reason, it gives me the feel of New York! 
Here Oleg and I definitely had a blast and a proper Old-Fashioned tutorial. We were extremely lucky to get a bartender who knew her sh*t. She also properly schooled us on changing taste with the same general agenda, so to say! 
We got to try 4 or so (lost count. this was the 2nd stop that night!) expressions with different Whiskies - If I correctly recall, my favorite was with 'Pikesville' 6yr Rye. We tried a few other Ryes and Bourbons in general.
My point being, the bartender was SUPERB!
Funny thing is, some years back, while having drinks at the W velvet room, a person noticed I was having an Old-Fashioned (of course!) - and recommended I head over to this spot.. Stating they made the best Old-Fashioned in the city.
It's certainly up there for me! 
HERE NOR THERE ~ 
This swanky members-only speakeasy downtown Austin is my newest find and gem in the city -
Old-Fashioned? or should I say 'Road Less Travelled', as named on the menu ~ Is 'Here Nor There's' expression of the classic cocktail. 
This is one of the best cocktail spots I've actually visited since living in the U.S. Then again, it's completely run by Europeans ~ I hope that has nothing to do with it particularly!  
Having said that, these guys are quite creative and can definitely keep you drinking for hours, with pleasure. Oh, they also carve the ice of a HUGE block at the bar, for drinks... yes! 
Their 'Road Less Travelled' is not exactly the classic Old-Fashioned, but very well done and will definitely be appreciated by lovers of this classic cocktail.  No sting, smooth, and lasts the time test of melting ice! 
THE LINE HOTEL ~ 
Firstly, ask for Camille at the bar! 
Though I must admit, the staff here is coherent with keeping all drinks made the exact same way (not the case at most hi-end hotels here, apparently). I however quickly got used to Camille's hand. Like the saying goes..
If it isn't broke, don't fit it!
Not surprisingly, the beverage group here is run my the one and only Brian Floyd (google him). So, of course it is all done to perfection - even taking the exact sugar cube calculations used in the era when the Old-Fashioned was invented (Yes, the sugar size has since changed and MOST bars use the wrong calculations today - or just completely unaware of what the exact calculation should even be). 
Furthermore, they use 'actual' clear ice! The sheer level of detail taken into making an Old-Fashioned here, makes it my #1 spot for Old-Fashioned's in Austin. 
The taste is perfect, and the ice is stamped .. 
We've had LOTS of Old-Fashioned's, and even nights out strictly to drink and rate the cocktail at various locations (multiple per location) with our Old-Fashioned connoisseur, Oleg - who's raves about this spot the most! 
FLOPPY DISK REPAIR CO. ~ 
Latest find! This isn't quite a speakeasy. However, you need a door code to get inside. This code is also changed monthly. So, I suppose you'll need to keep up with the spot, If you want that good 'Old-Fashioned'. No pun intended.. 
I was actually quite surprised by this spot when I arrived with a friend that suggested we visit (he gets the code monthly). Proper hole in the wall spot, as I refer to such hidden gems. Well decorated/designed for a small number of guests. Initially, I was a bit puzzled as a group of college-looking kids came in before my drink was ready. They also had Gello shots in the little refrigerator behind the bar (this worried me!). I hoped I wasn't at a college bar, not even on a Sunday night at 1am..
However, my friend ensured it wasn't and they probably got in since a doorman was absent. They however didn't ruin the vibe (what came REALLY close)...
The best part however, was my Old-Fashioned. It was extremely well made (and tasted as such) - and for some reason, I seemed surprised. Guessing because the college lads slightly lowered my expectation.
In any case, there just wasn't any argument with my drink. The right amount of sweet + sting. I'm certainly going to make sure I pop back in before the month is over (I have this month's code), and of course try to ensure I get a steady update of the monthly change.