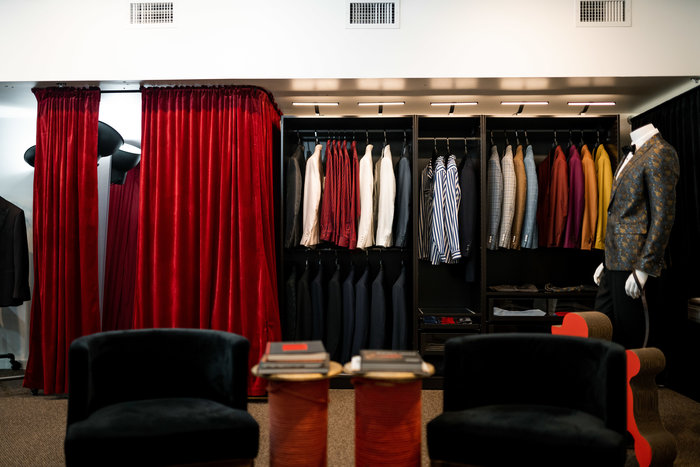 It's said "clothes maketh the man" and there's few things more important for your working wardrobe than an investment in the perfect suit. Fit, form and finesse make up the golden ratio of suiting and nothing demands attention to these details more than the purchase of an off-the-peg suit. Our expert advice to guide you, buying a suit online will be a cinch. 
WHERE TO START
First up, take your measurements. It may sound obvious but it's always worth taking the time to be precise - especially when making an online purchase, as even if you're confident in your suit size, many brands will differ in their styles and cuts.
Measure up on your chest - from armpit-to-armpit, inside leg and waist size. 
Measure your waist, then try on your most comfortable/favourite pair of trousers and compare the measurement. This will be more realistic and you can get your ideal (real) waist measurement. Most suits come with a generated drop system which means, for example, Drop 6 would be that the jacket size is 40 and the trouser size is 34 (take trouser size from jacket size), which may not be your exact spec, so make sure you have a handy tailor you can go to for alterations if needed.
CLASSIC FIT, SLIM FIT, TAILORED FIT… WHICH FIT TO TRY?
A slim fit tends to follow the body's contours and generally has trimmer features, including lapels and leg openings as well as a shorter jacket length. A tailored fit suit also has a slim silhouette, but with slightly more room, narrower shoulders and a higher armhole, while a classic fit is the most traditional of the three, allowing for more room in the shoulders and body.
For men with broad shoulders, lighter colours tend to narrow the frame. Shorter men should avoid long jackets, while tall men might find that two-button jacket styles work better. One of the most important factors is the fit of the shoulders as this is the hardest part to tailor.
"SHORT CHAPS SHOULD GO FOR SOMETHING WITH A STRONGER SHOULDER. TALLER GUYS CAN GET AWAY WITH THE CURRENT CROPPED JACKET TREND AND A SOFTER SHOULDER ON THE COAT." 
A single-breasted, two button suit is the style most popular as it suits most body shapes - get it right and it'll be like your second skin. For a more formal take, opt for a single button, while double-breasted jackets should always be cut short and trim for a more relevant, contemporary look.
HOW SHOULD IT FIT? 

When you get to try on your suit at home, the first thing to do is be realistic - it may not be the perfect fit in all places at this point, but that's why it's recommended to have a tailor on speed-dial, for any nip, tucks and alterations required to finesse your final look. Here's what to check for using our diagram above…
Shoulders - Essential in setting up the overall silhouette of the jacket, the shoulders can make or break the sharpness of a suit. To get the perfect fit, this may actually mean dropping down a size depending on the brand or cut of the suit. The fit on the shoulders should be snug, the shoulder pads shouldn't extend beyond the shoulder and when buttoned up, should pull you into a straighter posture.
Lapels - The insides of the lapels should sit flat against your chest - if there's a gap it's likely the jacket is too tight in the chest or across the waist. Match the width of your lapel with the width of your tie to balance up the look.
Sleeves - These should add to the streamlined fit of your suit. They shouldn't be too wide or sag or gape with excess fabric. It may be the case that once you have the right fit across your shoulders and chest, you will want your sleeves adjusted by your tailor.
Chest - From armpit to armpit, then down and across your torso, the jacket should sit comfortably either buttoned up - with no gaping or pulling - or left open and still retain its shape. It should sit flat on the chest, skimming your waist and hips, adding definition.
Cuffs - As with the sleeves of the jacket, the cuffs will add a final polish to the look. Too long and they look untidy, too short and they can make arms look stilted. The perfect cuff is cut just grazing the wristband allowing for a stylish one-centimeter glimpse of your crisp shirt below.
Buttons - Depending on whether double-breasted, one button or two, it shouldn't gape or pull at the point of fastening. It should sit flat, comfortably across your waist.
Trousers - The fit of the trousers are key to complementing the sharp silhouette of the jacket. They should be slim cut, fitted at the waist, yet allowing for two fingers fit when buttoned up to ensure the waist isn't under too much strain. Trouser breaks should sweep the top of the shoe, with the back hem sitting lower than the front, to allow for natural movement when walking and avoiding too much of a rise when seated. You may also opt for turn-ups on the trouser hems - which work best with a slimmer cut.
Most suit trousers online come unfinished, which is great as you can get your ideal length and break which should be no more then 7/8th of inch for a clean sartorial finish. If the suit you've selected is finished, again, know your leg length when trying and measuring.