Summer Wedding Suits: How to Stay Cool and Stylish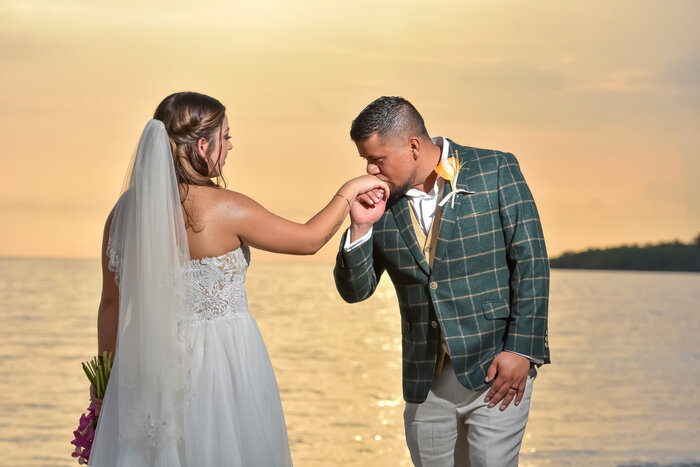 Summer weddings are romantic, filled with sunshine, and often accompanied by a warm breeze. While these weather conditions create a beautiful atmosphere for a celebration, they can also pose a challenge when it comes to choosing the right outfit, especially for men. In this blog post, we will explore some stylish options and essential tips to help you stay cool and fashionable at summer weddings.
Lightweight Fabrics
The key to surviving a summer wedding in style is choosing the right fabric for your suit. Opt for lightweight materials like linen, cotton, or seersucker. These fabrics are breathable and allow air to circulate, keeping you cool and comfortable throughout the event. Linen, in particular, is a popular choice for summer weddings due to its natural fibers that absorb moisture and dry quickly.
Color Palette
When it comes to summer wedding suits, consider opting for light and refreshing colors. Classic choices include light gray, beige, and pale blue. These colors not only reflect the sunlight, keeping you cooler, but also exude a sense of sophistication and elegance. If you want to make a bold statement, you can go for pastel shades like mint green, blush pink, or light lavender.
Suit Styles
Single-Breasted Suits:  
Single-breasted suits are versatile and suitable for most body types. They offer a clean and tailored look, making them perfect for formal and semi-formal summer weddings. Pair your single-breasted suit with a crisp white shirt and a complementary tie for a polished appearance.

Double-Breasted Suits:
For a more sophisticated and refined look, consider a double-breasted suit. While traditionally associated with formal occasions, modern designs have made them suitable for semi-formal events as well. Choose a lightweight fabric and pair it with a light-colored dress shirt and a silk tie for a touch of luxury. 



Blazer and Dress Pants:
If you prefer a less formal attire, a lightweight blazer paired with dress pants can be an excellent choice for a summer wedding. Opt for a linen or cotton blazer in a complementary color to your pants. You can pair it with a dress shirt or even a tailored polo shirt for a relaxed yet stylish ensemble. 

 
Accessorize Wisely
Accessorizing can elevate your summer wedding look. Here are some tips:
Ties and Pocket Squares:
Choose ties and pocket squares in light, breathable fabrics like silk or cotton. Opt for patterns or solid colors that complement your suit. For a summer wedding, floral or paisley patterns can add a touch of whimsy.

Footwear:
Lightweight loafers or dress shoes in light shades like tan or light brown are ideal for summer weddings. Remember to wear breathable socks to keep your feet comfortable. 

 

Sunglasses:
A stylish pair of sunglasses not only protects your eyes from the sun but also adds a cool factor to your overall look. Choose sunglasses that complement the shape of your face for a dashing appearance.
Summer weddings are a joyous occasion, and your outfit should reflect the celebratory atmosphere. By choosing the right fabrics, colors, styles, and accessories, you can stay cool, comfortable, and effortlessly stylish. Whether you opt for a classic single-breasted suit, a sophisticated double-breasted ensemble, or a chic blazer and dress pants combination, your summer wedding outfit is sure to turn heads and leave a lasting impression. So, go ahead, attend that summer wedding with confidence, and enjoy the festivities in style!